PLEASE NOTE
The Accomodation booking will be available soon! Please do not book now as we´re still finding out about the rates and easiest booking procedures!
Dormitory accommodation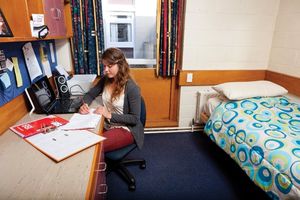 There a several halls of residence with space for around 600. Each room has a single bed and there are shared bathrooms, which you'll share with three other arachnologists.
If you want to get physical during your stay at Lincoln University, the Lincoln University Recreation Centre (https://hail.to/lincoln-university-recreation-centre/a/PEIsT6x) will be available to all folks staying in the dorms.
Breakfast will be provided at Te Kete Ika for all those staying in the dorms.
Dormitory prices per night:
NZ$85 per person with a cooked breakfast
NZ$75 per person with a continental breakfast
A lunch package for the Monday, Tuesday, Thursday and Friday will be NZ$95!
Other accommodation
If dorms are not your thing, there is a motel and hotel in Lincoln. Both are 1.6 km (1 mile in old fashioned distance) from the Congress venue. There are limited numbers of rooms, so book as soon as you can.
Motel – Lincoln Motel www.lincolnmotel.co.nz/
Hotel – Famous Grouse Hotel famousgrousehotel.co.nz/accommodation/
There are more luxurious hotels in Christchurch, but if that's what you're used to, you're probably not an arachnologist.